For TaroWorks 3.0 you need licensing for both Salesforce.com and you need licensing for the TaroWorks application.
To see the number of licenses you have and are currently utilizing, Navigate to 
Setup> Administration Setup> Company Profile > Company Information
Salesforce.com License
Salesforce Enterprise License - To access the solution's back end (Salesforce other than the Community Site), a user requires a Salesforce (Enterprise/CRM) License. This type of license is typically used by TaroWorks Administrator and those that require high interaction with the Salesforce platform. Typically you receive 10 free Salesforce licenses with the Power of Us program.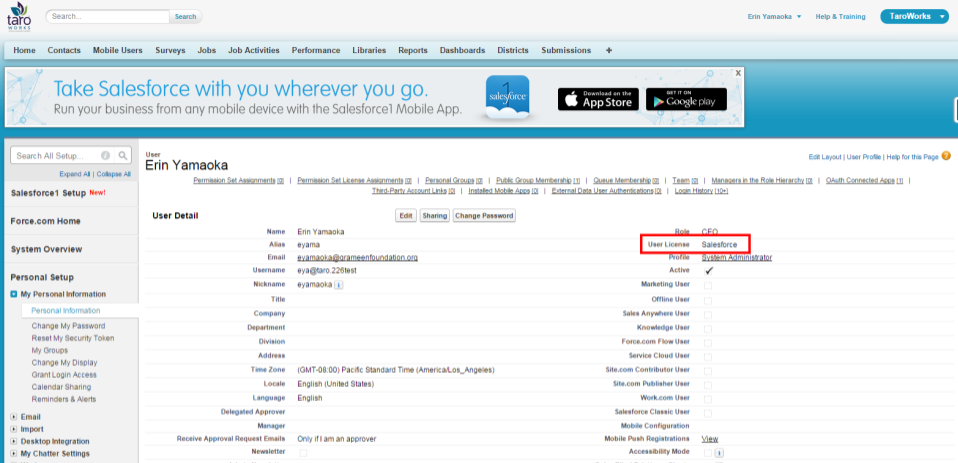 Salesforce Partner Community License - To access the solution's front end (the mobile application), a user requires a Partner Community License. This type of license is typically given to Field Officers using the TaroWorks Mobile application or any users that do not require access to Salesforce other than Partner Communities. Through the Partner Community, the user will be able to view Reports and Dashboards, download files from the resource library, and create and edit records. This type of license limits the user's create, read, update, and delete rights to 10 custom objects. You will receive sufficient partner community licenses commensurate with your TaroWorks licenses purchased, at no additional cost.
TaroWorks License
TaroWorks Managed User License - All users (whether accessing the front end or back end of the application) must be granted a TaroWorks license to access the application or TaroWorks objects.

 
For any pricing inquiries, please contact hello@taroworks.org.