If you've receive the below content from Salesforce, this will impact the way you present TaroWorks images:
In order to provide exceptional performance, availability, and reliability of our service, we occasionally need to perform an activity, called a split, where we move a subset of our customers to a new Salesforce instance. This takes place during a standard system maintenance window.

Why do we need to split?
We monitor the growth and performance of all our instances to anticipate and plan ahead for additional capacity. NA5 has been identified as an instance that is nearing our threshold for capacity. Therefore, we will be splitting your NA5 instance. This action will enable us to continue to provide your organization with the same levels of performance you have come to expect from Salesforce.

What action do I need to take?

1. Be aware of the scheduled maintenance window and plan your organization's activities accordingly.
2. If you have any hard-coded references (for example, na5.salesforce.com), make sure that you update them to relative URLs (for example, login.salesforce.com) prior to the split.
3. If you or your team have set up your corporate network settings or email security filters to restrict access to only certain IP ranges or data centers, please ensure that you are including our newest ranges. We have made updates to both our Network IP Ranges in April 2015 and Email Settings IP Ranges in June 2015. More information on which IP ranges to include can be found in the What are the Salesforce IP Addresses to whitelist? Knowledge article.
4. If you control your DNS timeout values set, then you will need to refresh your DNS cache and restart any integrations following the maintenance.
5. For full details of what this means for you and the steps you may need to take to prepare for this move, review the How to prepare for a Split article.
Action to take for TaroWorks
Of the actions listed above, the point that is relevant for TaroWorks is point 2. When you capture an image with TaroWorks, whether it be a photo or signature, it is stored as an attachment in Salesforce. An example of a URL for such an attachment = is "https://na1.salesforce.com/servlet/servlet.FileDownload?file=00P1a000000yvq8EAA". This is a hard-coded reference(na1, and is how Salesforce creates attachments.
The good news is, you do not have to manually update all of your records in order to display the photo or signature. You can simply update the formulas you are using to display the images.
Example:
This is the formula currently being used to display the image below:

IMAGE( Photo_URL__c , "No Photo on Record",100, 75)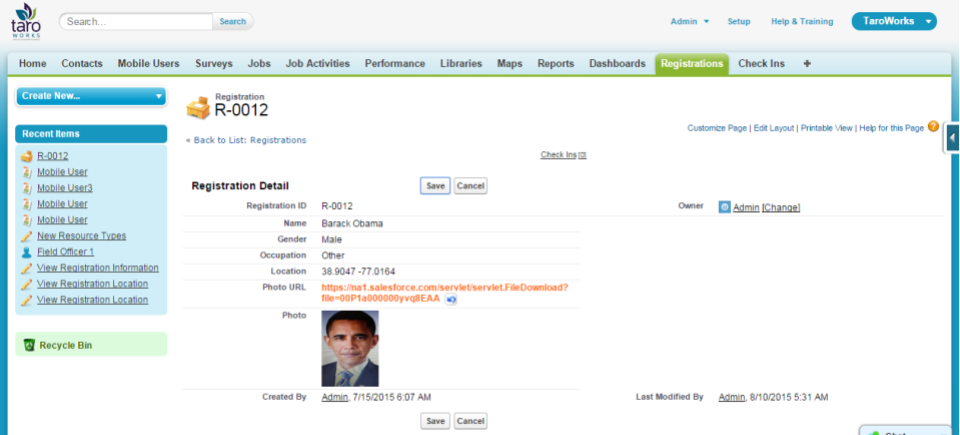 We want to adjust the formula to replace "na1" with "login" for the url, in order to make it a relative URL. This is done by adding to the formula as follows:
IMAGE( SUBSTITUTE(Photo_URL__c , "na1.", "login."), "No Photo on Record", 100,75)
Enter your instance name prior to the split in place of "na1". If you're unsure which instance you are on, reference the email from Salesforce. It would have been in the subject line: "ACTION REQUIRED: Upcoming Changes to Your NA1 Instance".