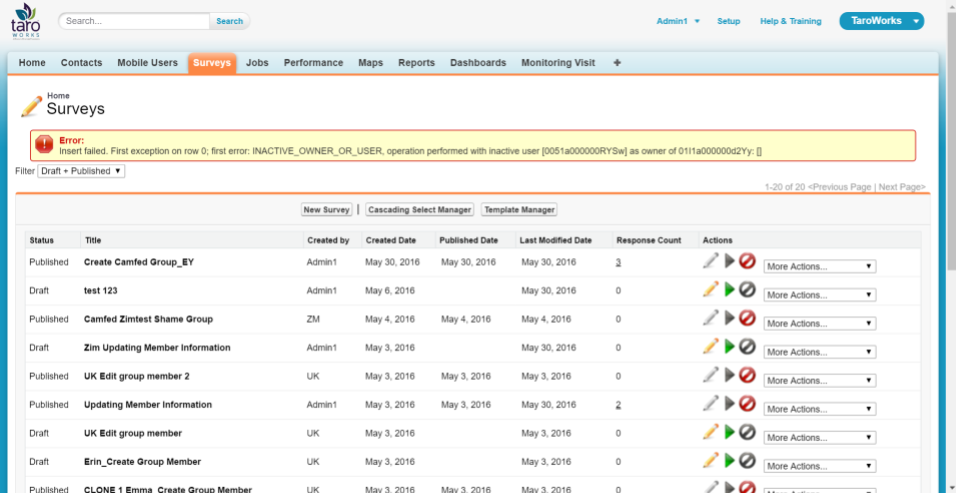 Cause
This error is usually caused when the user account of the author of a form has been deactivated. The owner of all records created in TaroWorks via form field mapping is the Salesforce user who has created the form. If that user has been deactivated, Salesforce will throw this error because an inactive user may not own new records.
Solution
If the user was deactivated inadvertently, you can simply reactivate the user:
Log in as a System Administrator, go to the Setup Menu and navigate to Administration Setup > Manage Users > Users.
Find the User that created the form and reactivate them.
Tell your field officers to sync again.
If you do not want to reactive the user account (Example: the individual has left the organization), you can also transfer the ownership of the form records using the following steps:
If you don't know the owner of the Form, copy the id, "X" from the error message.
Click the Home tab.
Delete everything in the URL after .com/ , and paste the id at the end of the url and hit enter. (Example: https://taroworks-3716.cloudforce.com/0051a000000RYSw)
The user record will load. Note the name of the inactive user.
Click Setup in top right corner. 


Navigate to Administration Setup > Data Management > Mass Transfer Records.
Tip:
Type 'Transfer Records' in either Search Setup (top) or Quick Find (left) above the menu. 
Click Transfer Forms.

Enter the inactive user the Form records are going to be transferred from and then the active user that the records will be transferred to. Click Find.

Select the Form you'd like transferred by checking the box next to the form name If you'd like to transfer all forms, check the box next to Title to select all records. Click Transfer.

A success record will display and the user will no longer receive the 00004 Error when syncing.

Repeat these steps but transfer Form Mappings owned by the inactive user.